Global company
Kaspersky is a global cybersecurity and digital privacy company founded in 1997. Kaspersky's deep threat intelligence and security expertise is constantly transforming into innovative security solutions and services to protect businesses, critical infrastructure, governments and consumers around the globe. The company's comprehensive security portfolio includes leading endpoint protection and a number of specialized security solutions and services to fight sophisticated and evolving digital threats. Over 400 million users are protected by Kaspersky technologies and we help 240,000 corporate clients protect what matters most to them.

Highest transparency and reliability
In 2018, Dominic Trott, then Associate Research Director – European Security at IDC, a well-known research and consulting firm, wrote that Kaspersky "has outperformed other major security vendors".





In 2017, Kaspersky launched its

Global Transparency Initiative

in consultation with national regulators (especially the UK, which is

home to Kaspersky's holding company

). As part of this, the company's digital infrastructure has been migrated to Switzerland, but specially designed Transparency Centers allow government regulators, corporate partners and customers to review (and compile it to make sure it matches the products on the market) the company's product source code, software updates, malware detection rules, and also technical and business processes (

this has already happened more than 20 times

). You can find more information about the initiative and other measures taken under it, which are actually launching a new trust standard in the IT sector, as well as information on applying to visit the Transparency Center at

https://www.kaspersky.com/transparency-center

. You can find comprehensive information on transparency in Kaspersky's operations at

https://www.kaspersky.com/about/transparency

.




In December 2021, Kaspersky

announced

the opening doors to new Transparency Center in North America



The best protection

Kaspersky - the test leader
Kaspersky Endpoint Security Cloud
demonstrated 100% efficiency against ransomware attacks, according to a recent assessment by AV-TEST. As a result of three different scenarios and 113 attack samples, the product didn't lose a single user file and outran 10 different cybersecurity vendors.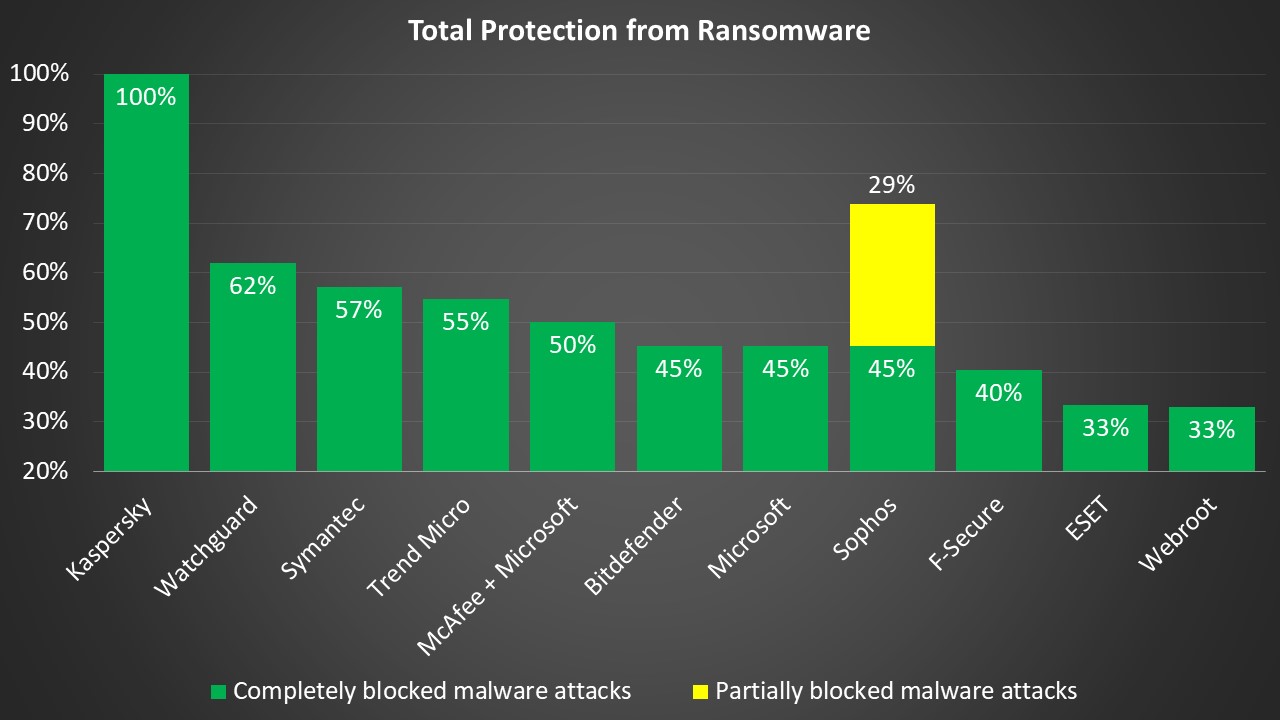 Ransomware protection from different products. "Completely blocked" means that ransomware was detected, and all user files were protected. "Partially blocked" means that ransomware was detected, but some user files were lost (not protected).

"Kaspersky offered a high level of protection against all ransomware attacks in our tests. It clearly outperformed the other reviewed products. Regardless of whether we're speaking about Revil or Ryuk or Conti – none of them was effective and able to perform the malicious actions when Kaspersky was protecting the system," says Andreas Marx, CEO, AV-TEST.
Kaspersky - a recognized customer choice
Kaspersky, an industry leader in endpoint protection, has been recognized as a 2021 Customers' Choice for Endpoint Protection Platforms by Gartner following a customer rating of 4.7 out of 5. 96% of customers also said they were willing to recommend the
Kaspersky Endpoint Security for Business
product. Kaspersky is one of only 3 vendors named a Gartner Peer Insights Customers' Choice in the latest round of recognition for both the EPP and EDR markets. Kaspersky has been named a Customers' Choice all four years that the recognition has been acknowledged by Gartner.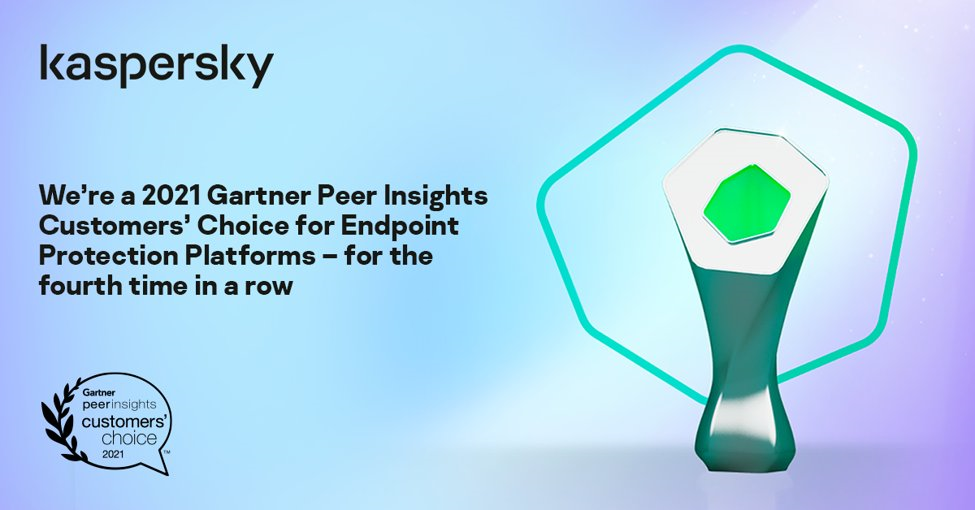 Kaspersky is the only vendor to be recognized as a Customers' Choice every time Gartner has announced the recognition in the EPP market.
Kaspersky detects all malware, regardless of its purpose or origin
Kaspersky constantly monitors the campaigns and activities of hundreds of Advanced Persistent Threat (APT) actors globally. For an overview of the scope of work performed by Kaspersky Global Analysis and Research Team (GReAT) experts from around the world, here is a list of threats that the GReAT team has identified and the possible language of the attackers identified by analyzing the attacks: