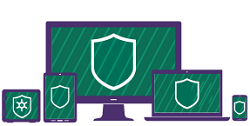 SECURITY
Protects your 'digital life'
against Internet threats & more"
Hundreds of thousands of new malware items are being unleashed by cybercriminals… every day. That's why our cloud-assisted security continually adds to your defenses against malware and Internet dangers. We also block banner adverts and let you filter out annoying spam messages.

PC, MAC & MOBILE
Secures any combination of PCs, Mac & Android devices
Whichever device you use to go online, our innovative security technologies deliver multi-layered protection. Furthermore, because it's easy to lose mobile devices, we've included anti-theft features that let you lock, wipe and locate lost or stolen Android devices.

PRIVACY
Safeguards your privacy and defends against identity theft
Phishing attacks – that can try to steal your identity or your money – are automatically blocked. In addition, our Webcam Protection* technology stops criminals using your own webcam to spy on you. We also prevent the tracking* of your web browsing habits and the capture of your personal information.

MONEY
Adds extra layers of security for online banking & shopping
Whenever you use your PC or Mac to visit a banking, shopping or payment website, our unique Safe Money technology checks that the site is secure, ensures you're not being tricked by a fake site and then opens the website in a special, protected mode.

KIDS
Helps you keep your kids safe from Internet dangers & more
Award-winning Parental Control features – running on your PC or Mac – make it easy for you to manage your kids' app downloads, prevent access to inappropriate web content & games.

PASSWORDS
Secure your passwords and accounts
We all have a lot of passwords. Create the passwords, safely store and permanently restore them — it's an unpleasant waste of time and an additional risk. Leave behind these unnecessary worries, let a special application on each of your devices manage the creation, storage, lookup and synchronization of your passwords.

FILES
Protects your photos, music, financial documents and files
Local and online backup* let you store duplicate copies of your photos, music and more. If your PC develops a fault, you'll be able to access all the precious files stored in your online backup – via any compatible device. You can also encrypt* your files – so unauthorized users can't read them – and, when you want to delete a file from your PC, you can totally 'shred'* it.

PERFORMANCE
Delivers world-class security… without slowing you down
Our security technologies combine protection & efficiency – so they work 'behind the scenes', without slowing down your 'digital life'.

SIMPLICITY
Simplifies security management… across all your devices
A free My Kaspersky account lets you manage your security – across all your computers, tablets & phones – from anywhere that you can access the Web. You can check each device's security & license status and adjust key security settings** – plus download free Kaspersky Lab products. My Kaspersky also gives you easy access to technical support.
* Available for PCs only.
** Available for PCs and Mac computers only.