Kaspersky Lab has been recognized for its customer satisfaction ratings, receiving the Platinum Award as part of the 2017 Gartner Peer Insights Customer Choice Awards for Endpoint Protection Platforms. Verified by end-user professionals, the Customer Choice Awards recognize vendors that are rated by their customers, based on a rating that takes into account the number of end-user reviews and overall user ratings.
We believe Gartner Peer Insights provides organizations with an unbiased, easy way of collecting candid customer feedback, and for technology decision makers to learn about a company"s products and services from objective experts. Gartner Peer Insights offers detailed perspectives for every phase of the IT lifecycle - from evaluation and implementation, through to service and support. Gartner Peer Insights provides firsthand experiences from IT professionals.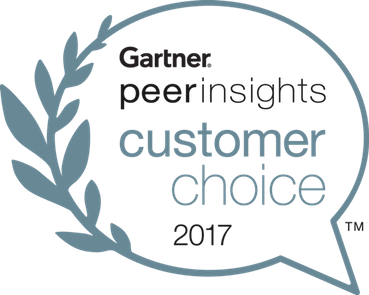 "We are proud to receive the Platinum Award and believe the relationships we have with our customers and the value our products and services give them and their businesses make us unique," said Alessio Aceti, Head of Enterprise Business at Kaspersky Lab. "This year marks Kaspersky Lab's twentieth anniversary, during which time we have developed and deployed various approaches to cybersecurity: from rapid product updates to cloud-based security intelligence, and advanced machine learning algorithms. We are constantly working to develop more valuable tools for our customers to help them stay one step ahead of cyber threats, while also maintaining the high levels of satisfaction we have built with them and our solutions."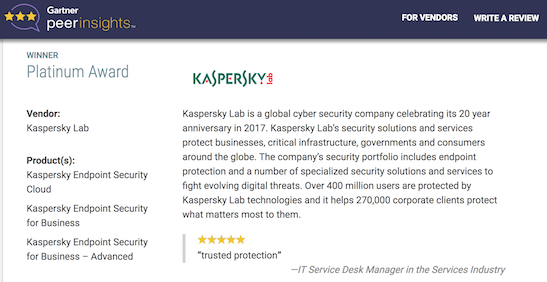 Kaspersky Lab's enterprise portfolio encompasses a variety of solutions to protect large businesses from all types of cyberthreats. The company's enterprise product portfolio has recently been expanded with
Endpoint Detection and Response Solution
and a wide range of
Security Intelligence Services
, to provide businesses with security intelligence and an adaptive approach to protect them against the most sophisticated threats, and minimize the damage such an incident could cause.
Gartner Disclaimer
Gartner Peer Insights reviews constitute the subjective opinions of individual end-users based on their own experiences, and do not represent the views of Gartner or its affiliates.
Gartner Peer Insights Customer Choice Awards are determined by the subjective opinions of individual end-user customers based on their own experiences, the number of published reviews on Gartner Peer Insights and overall ratings for a given vendor in the market, as further described here
http://www.gartner.com/reviews-pages/peer-insights-customer-choice-awards/
and are not intended in any way to represent the views of Gartner or its affiliates.
About Kaspersky Lab
Kaspersky Lab is a global cybersecurity company celebrating its 20 year anniversary in 2017. Kaspersky Lab's deep threat intelligence and security expertise is constantly transforming into security solutions and services to protect businesses, critical infrastructure, governments and consumers around the globe. The company's comprehensive security portfolio includes leading endpoint protection and a number of specialized security solutions and services to fight sophisticated and evolving digital threats. Over 400 million users are protected by Kaspersky Lab technologies and we help 270,000 corporate clients protect what matters most to them.