As competition intensifies, Kaspersky remains at the top of the TOP3 metric for consumer and corporate cybersecurity. In 2019, Kaspersky products helped the company to achieve podium places (first, second or third) in 70 of 86 different independent tests in which it took part.
The TOP3 metric represents the aggregate scores achieved by more than 80 well-known vendors in the most respected, independent tests and reviews in the cybersecurity industry. Each vendor receives a score based on the number of top three places its products achieved in independent testing, relative to the number of tests the products were examined in. Sustained performance across multiple tests and products provides customers, industry analysts and experts with a more comprehensive overview of the vendors' capabilities than a one-off result in a single test.
As of 2019, Kaspersky gained a podium place in 70 of the tests that it entered, with first place finishes in 64 of them.
Kaspersky Anti Targeted Attack, the company's flagship offering against advanced threats, brought in some of the most remarkable results. It was the only solution in its class that demonstrated 100% detection and zero false positives in Advanced Threat Defense test run by
ICSA Labs in Q3 2019
.
Kaspersky Anti Targeted Attack also successfully passed the
Breach Response Test by SE Labs
, which emulated 85 various attacks in order to check whether the solution can prevent and remediate any real harm, not just detect them. As a result, Kaspersky scored a Total Accuracy Rating of 95% with zero false positives.
Probing 'real-life' protection capabilities of security products have been the focus of testing approaches in 2019, as opposed to more formal and simpler detection tests. Last year, AV-Comparatives invited 16 anti-virus vendors to enter their new Enhanced Real-World Test.
Kaspersky Internet Security
was one of the two products among all six participants to achieve a perfect score in all 15 scenarios which involved exploits, fileless malware and other advanced cyberthreats while
Kaspersky Endpoint Security for Business
was one of the three corporate products with such a score.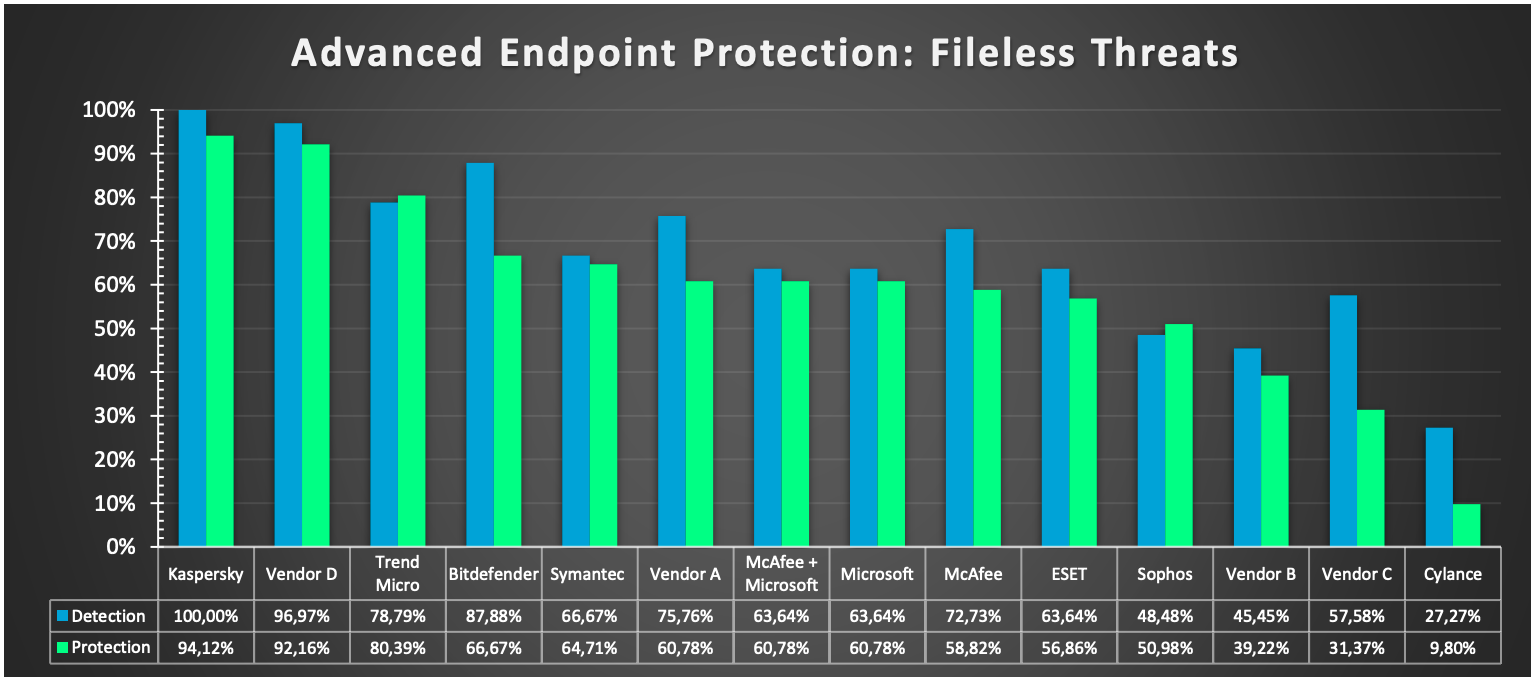 Furthermore, Kaspersky once again proved its expertise in protecting against 'undetectable' fileless malware in
Advanced Endpoint Protection: Fileless Threat Protection Test
by AV-TEST. As a result, Kaspersky Endpoint Security for Business scored detection rating of 100% (with 68% on average among competitors) and 94% for protection (with 59% on average among other vendors).
About Kaspersky
Kaspersky is a global cybersecurity company founded in 1997. Kaspersky's deep threat intelligence and security expertise is constantly transforming into innovative security solutions and services to protect businesses, critical infrastructure, governments and consumers around the globe. The company's comprehensive security portfolio includes leading endpoint protection and a number of specialized security solutions and services to fight sophisticated and evolving digital threats. Over 400 million users are protected by Kaspersky technologies and we help 270,000 corporate clients protect what matters most to them.