Kaspersky Safe Kids
for Windows was included in the top three solutions for children's online security, successfully achieving certification from the Austrian independent organization AV-Comparatives. During testing, the Kaspersky Lab product was ranked best according to several criteria; in particular, the percentage of blocked unwanted content: adult, gambling and weapon sites.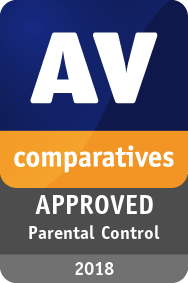 AV-Comparatives tested the solutions for children's online security on 2,000 unwanted URLs as well as 100 safe URLs, in order to test for false positives. To successfully pass certification, the product needed to block at least 98% of pornographic sites and have no serious vulnerabilities or bugs in its operation.
In today's digital society, it's hard to find a child that does not use gadgets or have access to the internet. That's why ensuring children's online safety is an extremely important issue. Kaspersky Safe Kids blocks unwanted websites and applications, thereby protecting children from inappropriate content. It allows parents to keep abreast of their children's posts and changes to their friend lists on social networking sites, as well as their current location.