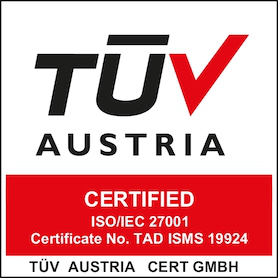 Kaspersky, a leading global cybersecurity company, has achieved ISO/IEC 27001:2013 certification; the international standard outlining best practices for information security management systems. Issued by TÜV AUSTRIA, the certification confirms that the company's data security systems, including Kaspersky Security Network, meet industry best practices.
ISO/IEC 27001 is the most widely used information security standard prepared and published by the International Organization for Standardization (ISO), the world's largest developer of voluntary international standards. It includes requirements on how to implement, monitor, maintain, and continually improve an Information Security Management System (ISMS) within the context of the organization and its business needs. Conformity with this internationally recognized standard lies at the core of Kaspersky's approach to implementing and managing information security, as it proves the completeness and rigor of security controls while providing clients with an additional level of assurance.

Certification was validated following an assessment done by the independent certification body TÜV AUSTRIA. It covered management systems of the delivery of malicious and suspicious files using the Kaspersky Security Network (KSN) infrastructure, as well as safe storage and access to these files in the company's Distributed File System (KLDFS). This include the company's data centers in Zurich, Switzerland; Frankfurt, Germany; Toronto, Canada and Moscow, Russia.

"TÜV AUSTRIA aims to protect society and businesses from a variety of risks of any nature. As digitalization is the main common trend of the world's developments it creates both significant opportunities and major risks as public and/or private information could be lost or corrupted. So we appreciate it very much that such a significant global market player as Kaspersky shows its commitment for following the internationally recognized standard for information security management," commented Detlev Henze, Head of TÜV AUSTRIA Group's TÜV TRUST IT GmbH.

Certification is publicly available in the TÜV AUSTRIA Certificate Directory and also on the Kaspersky website here. The ISO 27001 audit is yet another step in the Global Transparency Initiative, announced in 2017, to further ensure its partners and customers that the company's products and services are not only the best when it comes to protection from cyberthreats, but also treats customer data with the highest level of respect and care. In 2019 the company achieved the SOC 2 Type 1 audit, issued by one of the Big Four accounting firms, which confirms that the development and release of Kaspersky's AV databases are protected from unauthorized changes by strong security controls.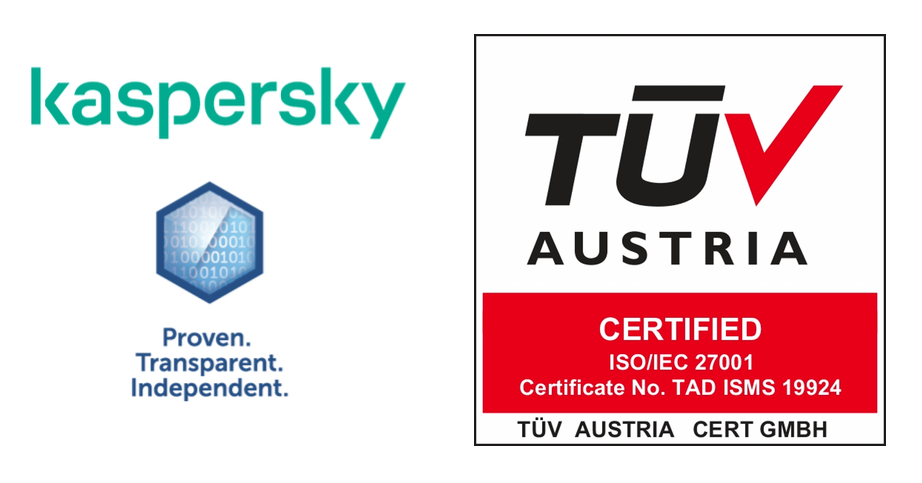 About Kaspersky
Kaspersky is a global cybersecurity company founded in 1997. Kaspersky's deep threat intelligence and security expertise is constantly transforming into innovative security solutions and services to protect businesses, critical infrastructure, governments and consumers around the globe. The company's comprehensive security portfolio includes leading endpoint protection and a number of specialized security solutions and services to fight sophisticated and evolving digital threats. Over 400 million users are protected by Kaspersky technologies and we help 270,000 corporate clients protect what matters most to them.
About TÜV AUSTRIA
Established in 1872, TÜV AUSTRIA Group is Austria's largest testing, inspection and certification company. It operates internationally with connected solutions, such as industrial services, robotics, e-mobility, materials testing and further education. In addition to Austria's largest EMV facility and largest radiation application room, TÜV AUSTRIA runs the Safe-Secure-System (S3) Lab to develop digitalization strategies and industrial applications for functional safety and cybersecurity. TÜV AUSTRIA Group's service spectrum ranges from elevator and pressure equipment inspections, plant safety and materials testing, education and training, medical technology, electrical engineering, environmental protection, Industry 4.0, acoustic emission tests, carbon footprint evaluations, certification of personnel, management systems and products to cybersecurity, Internet of Things, e-mobility, AppChecks, loss adjusting, construction engineering and facility management, calibrations, product tests, robotics, technical due diligence and compliance checks, as well as water hygienics and inspections of stage, photovoltaic and wind power facilities. This independent testing, inspection and certification company with more than 2,000 staff in over 20 countries generates >200 million euros in sales.