The Stalkerware Test 2020 conducted by AV-Comparatives, together with the Electronic Frontier Foundation (EFF), proves that Kaspersky's Internet Security for Android solution offers users best-in-class protection and detection of software used to secretly spy on people.
Stalkerware is commercially available software used to spy remotely on another person via their device, without the victim giving their consent or being notified. In its
Stalkerware Test 2020
, AV-Comparatives, an independent Austrian-based industry testing organization, teamed up with Electronic Frontier Foundation (EFF), the leading US-based nonprofit organization defending digital rights, to review the most used antivirus programs - including Kaspersky's Internet Security solution for Android and Windows. 10 security solutions were tested using 20 stalkerware apps for Android and 10 stalkerware programs for Windows, first in November 2019 and then again in May 2020.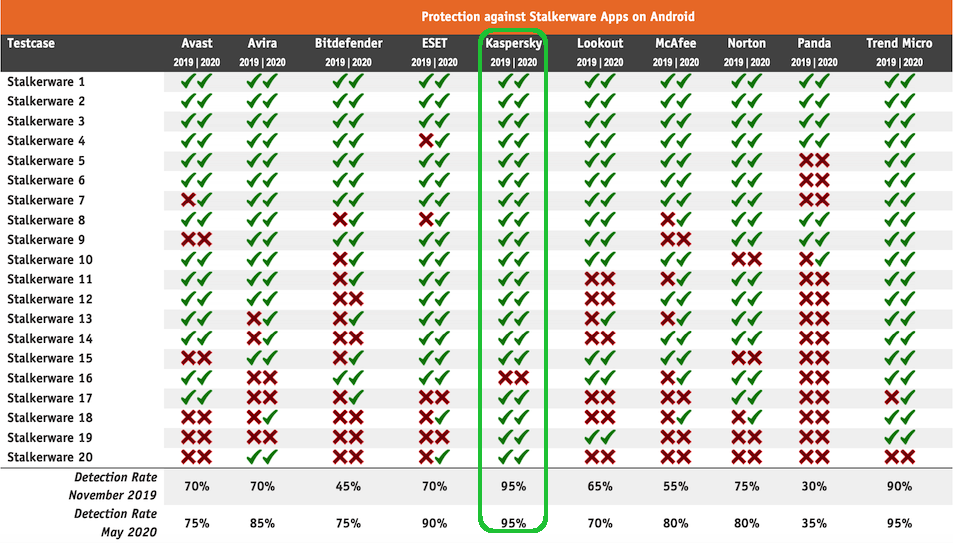 Looking at the Stalkerware Test 2020 results, Kaspersky's Internet Security solution for Android devices performed best-in-class, with a 95% detection rate both in November 2019 and May 2020. The solution also achieved strong results for protecting Windows' devices, reaching a 100% detection rate in the second round of testing. Tests were conducted to see if the product showed either a warning or detection message to the user's device or blocked the stalkerware. If the antivirus product performed either of these functions, then it was considered to have successfully detected the stalkerware.
For users who suspect they may be affected or who are being impacted by stalkerware, Kaspersky has the following recommendations:
Contact local support organizations or the police, to receive professional assistance if you are concerned about or have found stalkerware on your device. The Coalition Against Stalkerware website provides a list of support organizations.
Visit www.stopstalkerware.org and watch an explanatory video by the Coalition Against Stalkerware - both of which are available in six languages (English, French, German, Italian, Portuguese and Spanish) - to find helpful information for victims and survivors to better understand and detect the warning signs of stalkerware. The video lists common indicators to check if a user thinks they may have become a victim of stalkerware, and what steps they should and should not take
Use proven cybersecurity protection, such as Kaspersky Internet Security, to run a check on your device and discover if stalkerware has been installed on it.
About Kaspersky
Kaspersky is a global cybersecurity company founded in 1997. Kaspersky's deep threat intelligence and security expertise is constantly transforming into innovative security solutions and services to protect businesses, critical infrastructure, governments and consumers around the globe. The company's comprehensive security portfolio includes leading endpoint protection and a number of specialized security solutions and services to fight sophisticated and evolving digital threats. Over 400 million users are protected by Kaspersky technologies and we help 250,000 corporate clients protect what matters most to them. Learn more at
www.kaspersky.com
.
About Coalition Against Stalkerware
The Coalition Against Stalkerware ("CAS" or "Coalition") is a group dedicated to addressing abuse, stalking, and harassment via the creation and use of stalkerware. Currently comprised of direct service and international victim service agencies, as well as information technology security firms, the Coalition looks to bring together a diverse array of organizations to actively address the criminal behavior perpetrated through stalkerware and raise public awareness about this important issue. Due to the high societal relevance for users all over the globe, with new variants of stalkerware emerging periodically, the Coalition Against Stalkerware is open to new partners and calls for cooperation. To find out more about the Coalition Against Stalkerware please visit the official website
www.stopstalkerware.org
.