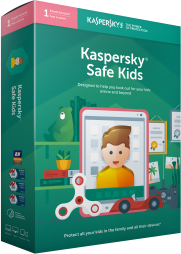 Kaspersky Safe Kids found highly effective at preventing children from accessing inappropriate content, being groomed online and more. To help parents protect their children's safety on the internet, independent software assessor AV-TEST has evaluated a number of parental control software solutions, and has awarded Kaspersky Safe Kids with three "Approved" certificates.
As young children spend more time on the internet, many parents are struggling to protect them from exposure to a wide variety of online threats, such as viewing inappropriate content, facing cyber-bullying, or unwittingly sharing private data. In fact, Kaspersky Lab recently found that half of parents (51%) believe that online threats to their children are increasing. With operating systems only providing basic protection, third-party parental control solutions offer the enhanced capabilities that parents need to safeguard their children from online threats.
In the latest round of testing, AV-TEST evaluated 11 parental control tools for desktops running on Windows 10 and MacOS, as well as 11 parent control apps for Android, iOS and Fire OS. Kaspersky Safe Kids was recognized as one of the best child protection solutions on the market, achieving AV-TEST certificates for its use on Windows, iOS and Android.
The test assessed the filters and settings offered by third-party child safety apps and internal operating system parental control tools. Products were tested on: protection against cyber-bullying; access control to adult content; control of private data transfer; controlling time spent on digital devices; protection from online money traps; protection against online grooming; and protection of privacy.

Kaspersky Safe Kids was found to be more effective at protecting children from accessing harmful websites than many of its competitors. The product's filter blocked adult content more effectively than competitors and internal operating system tools in seven out of ten content categories. These categories included the obvious, such as pornography or gambling websites, as well as content that is often overlooked, such as illegal data and file sharing exchanges, and sites that contain weapons, ammunition and violent content.
The test also revealed that Kaspersky Safe Kids protects children from more security threats than internal operating system tools. These include the control of private data transfer and protection from online money traps. Additionally, the Kaspersky Safe Kids desktop version was the only AV-TEST tested and certified solution that protects children from online grooming – something of vital importance to parents, considering that
research
has shown it can take as little as 45 minutes for predators to groom a child online.

The full results from the AV-TEST parental control software test
can be found here
for Windows 10 and MacOS,
and here
for Google Android, Apple iOS and Amazon Fire OS.

More information about Kaspersky Safe Kids can be found
on our website
.
About Kaspersky Lab
Kaspersky Lab is a global cybersecurity company, which has been operating in the market for over 21 years. Kaspersky Lab's deep threat intelligence and security expertise is constantly transforming into next generation security solutions and services to protect businesses, critical infrastructure, governments and consumers around the globe. The company's comprehensive security portfolio includes leading endpoint protection and a number of specialized security solutions and services to fight sophisticated and evolving digital threats. Over 400 million users are protected by Kaspersky Lab technologies and we help 270,000 corporate clients protect what matters most to them.